International
Odontoglossum
Alliance
I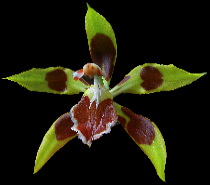 Type Species for the Genus
Odontoglossum epidendroides
NOTE - Your donated amount must be stated in US$ but your donation will be charged to you in your own currency.
To make your chosen donation :-
1. CLICK on the Paypal DONATE button below.
2. Enter an amount of US$ in the "PRICE PER ITEM" box.
3. CLICK CONTINUE
4. Follow PayPal instructions.
As a non-membership organization no costs are levied on those interested in following and participating in Alliance activities.
We raise essential funds by donations and plant auctions.