International
Odontoglossum
Alliance
I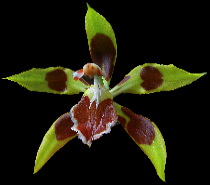 Type Species for the Genus
Odontoglossum epidendroides
Enter HISTORY OF THE ALLIANCE
The International Odontoglossum Alliance began with a group of North American Odontoglossum growers, Bruce Cobbledick, Robert Dugger, Dr. Howard Liebman and Dr. Wally Thomas in a discussion at the 1981 10th World Orchid Conference in Durban South Africa. They discussed the possibility of forming a world-class organization to foster the culture, hybridization and conservation of plants of the Odontoglossum alliance. In 1985 an organizational meeting was held in the San Francisco home of Tim Brydon, an avid Odontoglossum grower, to launch the IOA formally as a non-profit organization.
Interest grew and the following year Dr. Wally Thomas organized the first meeting of the International Odontoglossum Alliance, an event held concurrent with the 1986 Vancouver Orchid Society's 10th Annual International Show and Sale. This meeting featured a number of interesting presentations. Among them was Dr. Donald Wimber's talk on chromosome numbers in Odontoglossum and its hybrids, information he determined on visits to the Eric Young Foundation on the Isle of Jersey.
The second gathering of the Odontoglossum Alliance was in March of 1987 during the Western Orchid Conference in San Francisco. This meeting was notable for the finest display of Odontoglossum alliance hybrids seen in the United States. A program of talks was given and the International Odontoglossum Alliance used the opportunity to present Robert Dugger a cast bronze plaque for his important contributions to Odontoglossum hybridizing as well as IOA "thank you" for his vital role in popularizing Odontoglossums in North America.
Since these early days memorable IOA meetings have occurred in both North and South America. Keenly aware of the tremendous contributions and Odontoglossum legacies made by United Kingdom and European nurseries and growers, the International Odontgolossum Alliance looks forward to future meetings in the United Kingdom, Europe and other parts of the world with amenable conditions and growers interested in the culture and preservation of arguably the most beautiful flowers of the known World. 
At the present time the Journal of the International Odontoglossum Alliance (ISSN 2642-3464) is being read in more than a dozen countries.Text