International
Odontoglossum
Alliance
I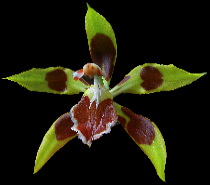 Type Species for the Genus
Odontoglossum epidendroides
The International Odontoglossum Alliance (IOA) is a non-membership, nonprofit organization open to all who are interested in the orchid genera Odontoglossum and its close relatives, South American neo-tropical orchids of the subtribe Oncidiinae. Oncidiinae represent the most diverse subtribe of all Orchidacae offering a huge pallet of colours, patterns, size and shapes. The IOA strives to be a significant resource for all growers interested in Odontoglossums.
The goals of the IOA are straightforward; to promote the growing and preservation of the genus via conservation, ex situ culture, propagation and fellowship. We strive to be a useful resource for Odontoglossum orchids. Our major tools are this IOA website, our Journals with editorial comments and submissions by interested readers, and our occasional meetings.
Our Journal, which is robust and colourful, is produced in both English and Spanish. Publication dates are determined when enough information is gathered to make an interesting read. We welcome and will publish "letters to the editor". This IOA website contains links to recent, archived and historical publications. Growers interested in providing announcements, articles, criticisms, information or photographs are welcome to submit them via the webpage Editorial link. All submissions to the editor must include an attribution of a name and date. Photographs should have information regarding any photo-credits; given the obstacles of management all submitted photos will be considered in the public domain.
As a non-membership organization there are no costs to those interested in following and participating in IOA activities. We raise needed monies by donation and plant auctions.
Our board of directors makes decisions for the IOA. We welcome anyone interested in a position on the IOA board. Apply by e-mailing to any of the contacts shown on our International Liaison page or through the webmaster, submitting a curriculum vitae.
<script type="text/javascript" src="https://www.stat-counter.org/count/62xb"></script><br>
<a href='http://www.counter-zaehler.de'>counter script</a> <script type='text/javascript' src='https://www.whomania.com/ctr?id=b6ade9a1a9dba8a2881c38b75def9ece1bd3d53b'></script>